JAYJUN Okra Green Eye Gel Patch Jar
SKU: 8809495896196SA
Authentic product powered by Giann.co
Eye gel patch that brightens and firms under eye area using the revitalizing properties of the Okra plant. 
This water-soluble hydrogel patch boasts excellent adhesion and moisturizing capabilities in a flexible form. Patch continuously delivers hydrating essence to skin, from application to removal. Use it to refresh, hydrate, and firm anytime.
The powerhouse of the Okra Green line is the 1,000ppm of okra fruit extract in each product. Okra, a green fruit said to be popular with historical beauty icons Cleopatra and King Guifei Yang, is rich in vitamins, beta-carotene, and mucin that gently nourish and hydrate your skin, making it the ultimate skin-food!
Size: Jar contains 60 patches/30 pairs
Key Ingredients: 
Okra Fruit Extract: Rich in vitamins and beta-carotene, okra extract forms a barrier that locks in moisture and keeps your skin firm. Gently nourishing. 
Green Herb Complex (Centella asiatica extract, yam extract, Bulgaris mugwort extract): Centella asiatica extract provides moisturizing and soothing care for comfortable-feeling, supple skin. Herbal wheat extract and bulgaris mugwort extract refresh your skin and promote clarity and vitality.
Mung Bean Extract, Birch Bark Extract, Sourigwi Extract: Helps you achieve softness and that oh-so coveted "dewy glow."
Panthenol: Helps strengthen skin's moisture barrier.
What it does:
Moisturizes
Firms
Clarifies
Brightens
Skin Type: Suitable for all skin types.
Claims: Hypoallergenic, Anti-wrinkle

Full Ingredient List:
Purified water, glycerin, niacinamide, carrageenan, carob gum, butylene glycol, glucomannan, hydroxyacetophenone, calcium chloride, allantoin, clofenesin, guar gum, okra fruit extract (2,000 ppm), PEG-60 hydrogenei Tiedcaster oil, golden extract, 1,2-hexanediol, titanium dioxide, potassium chloride, propanediol, pentylene glycol, sucrose, yam extract, mugwort leaf extract, calcium lactate, green tea extract, caprylyl glycol , Cellulose Gum, Chromium Oxide Green, Citron Extract, Adenosine, Guju Tree Leaf Extract, Arginine, Dipotassium Glycyrrhizate, Disodium EDTA, Ethylhexyl Glycerin, Coconut Coconut Extract, Panthenol, Flavor, Bulgari Mugwort Extract , Centella asiatica extract, mung bean outpost extract, tocopherol, birch bark extract, sori chinensis root extract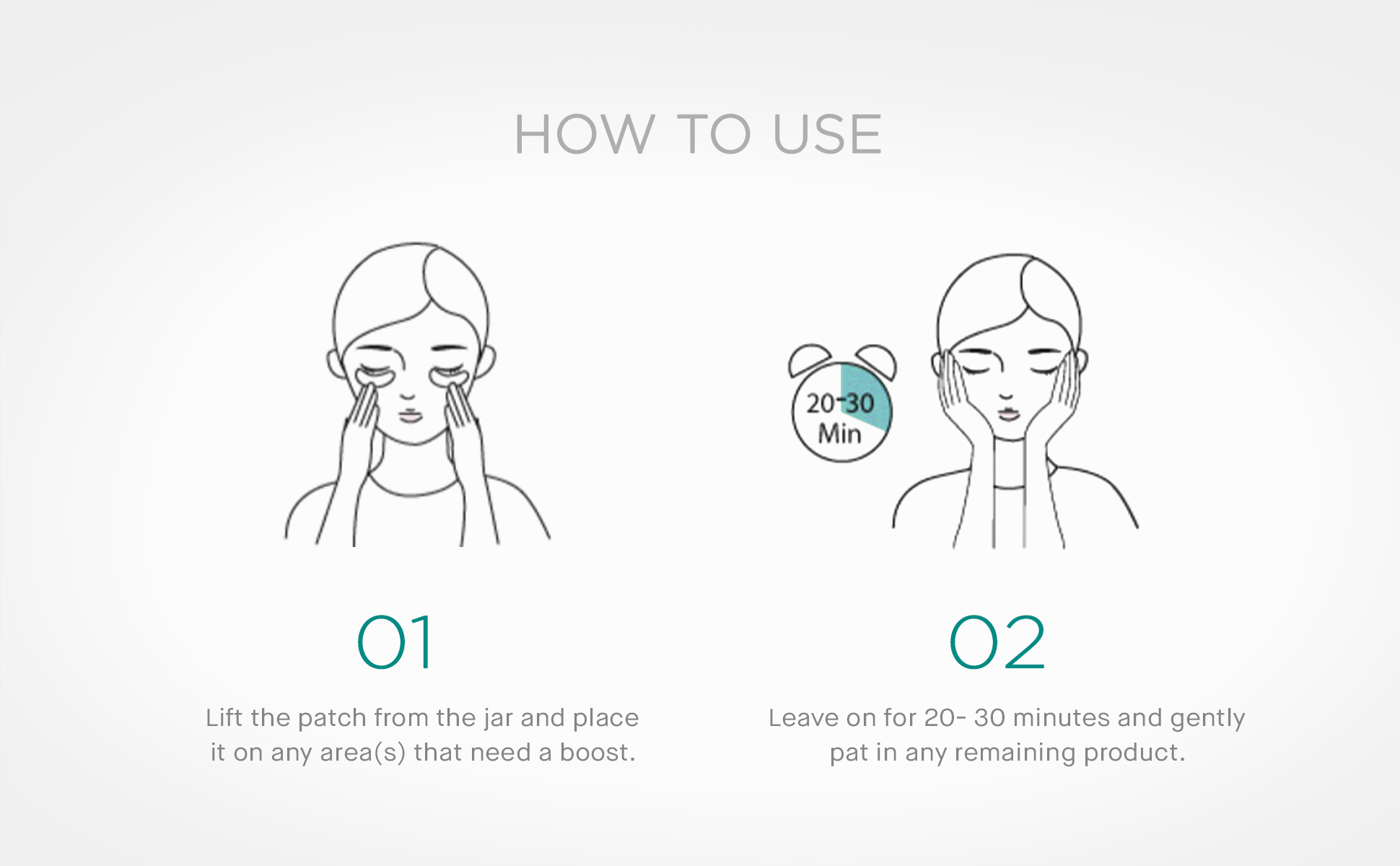 1. After cleansing, apply patch to desired area using the spatula provided.
2. Leave on for 20-30 minutes. Remove and gently pat in any remaining product.