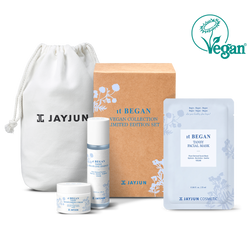 JAYJUN it Began - Vegan Collection Limited Edition Set
SKU: SK-SE-ITB-000-002
Authentic product powered by Giann.co
Plant Derived Foam Cleanser ●  Hydrate ● Balance ● Gentle
The beginning of total skincare that promotes both quality and
ethical value. it BEGAN line has no animal-derived ingredients making these completely vegan.
This highly enriched plant-derived cleanser provides lightweight hydration as it restores, brightens and softens your skin. Tansy's powerful antioxidant and anti-inflammatory properties help calm and soothe the skin. Tansy flower feeds your skin with bursting hydration and natural glow. 
KEY INGREDIENTS
Tanacetum Vulgare (TANSY) – Soothing
Laminaria Japonica (MARINE) – Firming
Sodium Hyaluronate – Hydrating
10 Herb Complex - Moisturizing
RECOMMENDED IF 
-You're interested in a gentle facial wash with generous sebum and dead-cell cleansing power.
-You have oily skin.


CLAIMS

Vegan, Hypoallergenic, Cruelty free, Paraben free 
Natural, 100% plant-based product. 
Certified Vegan by The Vegan Society